Automatic Driving lessons Shifnal
Driving lessons shifnal provides a range of affordable Automatic Driving Lessons and Intensive Driving Courses in Shifnal Gift Vouchers Available on all Driving lessons, Intensive Courses, Block bookings and Special Offers
call today on 0800 1 777 149 or 07791 152 046 for full details
Automatic driving lessons shifnal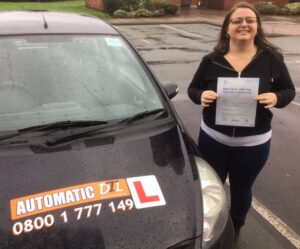 Choosing a Shifnal driving instructor can be difficult when there are so many driving schools, Shifnal is no different but as we offer a pleasant, humorous, & relaxed atmosphere whilst you are learning to drive, and a high first time pass rate this has helped me become very popular within the area.
Driving Lessons Shifnal
Automatic £40 per hour
Pre pay 10 hours £380
Apply for your driving licence here
Intensive Driving Course Shifnal
Courses
Deposit Required
Total Cost -Test NOT INCLUDED
 
 
 
10 Hour Driving Course
£60
£380
15 Hour Intensive Driving Course
£60
£570
20 Hour Mini Intensive Driving Course
£100
£760
25 Hour Intensive Driving Course
£150
£950
30 Hour Intensive Driving Course
£200
£1140
30 Hour Semi-Intensive Driving Course
£200
£1140
35 Hour Intensive Driving Course
£300
£1330
40 Hour Super Intensive Driving Course
£520
£1520
45 Hour Super Intensive "PLUS" Driving Course
£560
£1670
50 Hour "MEGA" Intensive Driving Course
£1825
Intensive Driving course Shifnal
We are one of Shifnals longest serving driving schools. For over 16 years we have provided local driving lessons. Take your driving lessons with us and you will benefit from Dedicated, Professional, Flexible driving lessons designed around your own unique requirements and always on a one to one basis. We have a teaching style that aims not only to give you the skills to pass your driving test, but we teach you the skills to become a safe, confident driver for life.
Driving instructor Shifnal Shropshire
Our System allows for flexibility in lessons so that you learn to drive safely at a rate that suits you, we aim to make every lesson enjoyable and as productive as possible. Lessons are always conducted in a calm, friendly, and relaxed manner, as we firmly believe in making pupils feel at ease during lessons. So if you are interested in taking Driving lessons or an Intensive Driving crash course in Shifnal  and the surrounding areas and want to know more please contact us.
Services we offer Include:
Fully Qualified A Grade Instructor
Weekly Lessons
Intensive driving Courses
Semi-intensive Course
Midway pass Course
Test Booster Course
Refresher Course
Block Booking Discounts
Affordable Prices
Pass Plus Courses
Motorway Driving
Pick Up from home/Work/College
Lessons Available 6 Days A Week (Closed on Sunday's)
One to One Tuition
Gift Vouchers Available
The safe drivers of tomorrow are the well-taught learners of today. DTL Driving School for Driving Lessons Shifnal and Intensive Courses Shifnal