Mock Test Sheets: The Ultimate Tool for Driving Instructors and Driving Schools!
Are you a driving instructor or own a driving school? Are you looking for a comprehensive and efficient way to prepare your students for their upcoming driving tests? Look no further! Our Mock  Test Sheets are specifically designed to assist driving instructors and driving schools in delivering exceptional training and ensuring their students' success.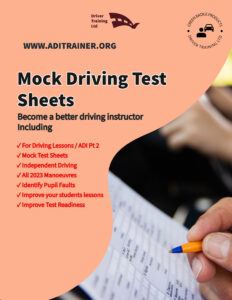 Why Use Mock Test Sheets?
With the wait for driving tests becoming ever longer and the DVSA asking driving instructors to make sure that there pupil is test ready,
Here's why our Mock Driving Test Sheets are a must-have for driving professionals:
Comprehensive Preparation: Our sheets cover all essential aspects of a driving test, including vehicle controls, traffic signs, road rules, parking manoeuvres, and more. Each sheet simulates a realistic driving test scenario, allowing your students to familiarize themselves with the exam format and gain confidence.
Structured Learning: Our sheets follow a systematic and organized approach, providing a step-by-step breakdown of each test component. This structure ensures that your students gain all the necessary skills and knowledge required to pass their driving tests with flying colours.
Realistic Scenario: We understand the importance of replicating real-life driving situations. Our Mock Driving Test Sheets provide the scenario that students are likely to encounter during their actual driving test. This helps them develop the ability to make quick and informed decisions on the road, enhancing their overall driving competence.
Performance Tracking: With our sheets, you can easily track your students' progress and identify areas that require further attention. Detailed feedback sections allow you to provide constructive criticism and guidance, enabling your students to continually improve their driving skills.
Time-Saving Solution: As a driving instructor or school owner, your time is valuable. Our Mock Driving Test Sheets provide a ready-to-use resource that eliminates the need for extensive test preparation. You can focus more on personalized instruction and hands-on training, maximizing the effectiveness of your lessons.
Professional Branding: We offer customizable options for driving schools, allowing you to add your contact information, and other branding elements to the sheets. This creates a cohesive and professional image for your school while providing a consistent learning experience for your students.
Cost-Effective: Our Mock Driving Test Sheets offer great value for your investment. By streamlining the training process and increasing your students' chances of passing their driving tests on the first attempt, you can reduce overall training costs and increase customer satisfaction.
Don't miss out on this opportunity to enhance your driving instruction services and provide your students with the best possible chance of success on their driving tests. Invest in our Mock Driving Test Sheets today and take your driving school to new heights!
Safe driving starts with effective preparation, and we're here to help you every step of the way.
Double-sided Coloured Mock Driving Test Sheets
Printed on 80 gsm paper with room for notes and explanations of faults on the back
Fully 2023 compliant with Independent Driving and All Current Manoeuvres Listed.
You can tear it out and give it to the pupil as something to look at and learn from
or
Keep it within the book for reference when you next do a mock driving test with the pupil