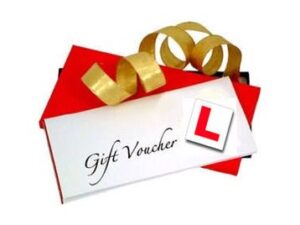 Are you looking for a gift for someone who wants to learn to drive? Telford Driving School have driving lesson gift vouchers available from £25. Just tell us how much you want to spend.
Why Choose DTL                          
BUY GIFT VOUCHERS ON-LINE NOW!
By choosing DTL Driving School for the purchase of driving lessons gift vouchers you can be assured that the person that you are buying the gift voucher for learns to drive with a highly reputable driving school with over 30years experience of teaching learner drivers.  Our driving instructors are amongst the best in the driving instructor industry and our cars are some of the most eco-friendly cars used today.
Our driving lessons are also very competitively priced and we have Special Introductory Offers for all new learner drivers joining Telford Driving School. Therefore your present of a driving lesson gift voucher will buy more driving lessons with Driver Training Ltd than many driving schools.
Buy a driving lesson gift voucher today and give someone a head start on becoming a safe and considerate driver for life
                                                                                                          BUY ON LINE NOW!  OR CALL:
0800 1 777 149