ADI Standards Check Test Guide 2023 - Complete ADI  Standards Check Book.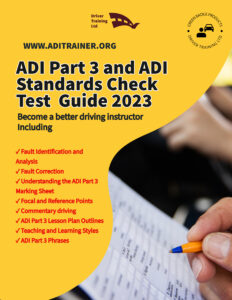 Colour Graphics, Photos, Explanations on Durable Gloss 120gsm Paper, Spiral Bound
* Complete Guide for UK Driving Instructors - professionally designed to help trainees and qualified driving instructors pass their ADI Part 3 and ADI Standards Check Test.
This complete guide gives you the confidence and knowledge you need to become a better teacher and provide your students with a thorough understanding of all subjects.
* 80 Pages - Quality printed on glossy 120gsm paper. Each subject is comprehensively covered including understanding the marking sheet, fault identification, Fault Analysis and Pupil Reference Points. The thicker covers ensure durability and ease of use.
* Includes Detailed Instruction - Unlike other ADI Part 3 and ADI Standards Check Test Guides, ours provides a simple but comprehensive explanation of the aspects of taking the ADI Part 3 or the ADI Standards Check Test exam.
Including
✓Fault Identification and Analysis
✓Fault Correction
✓Learning and Teaching Styles
✓Understanding the ADI Part 3 Marking Sheet
✓Focal and Reference Points
✓Commentary driving
✓ADI Part 3 Lesson Plan Outlines
✓Teaching and Learning Styles
✓ADI Part 3 Phrases
ADI STANDARDS CHECK
* Designed by Experts - Created by ORDIT registered trainers Driver Training Ltd, with almost 20 years of experience in teaching people to become driving instructors.
Whether you're an  experienced driving instructor looking to refresh your knowledge, and become a better instructor this handy driving guide is perfect for you.
* Great Gift Idea - Makes a fascinating and helpful gift for any driving instructor or student. Many driving schools are stocking up with these to improve the quality and ease of instruction with a higher pass rate for students.