Complete Driving lessons Cosford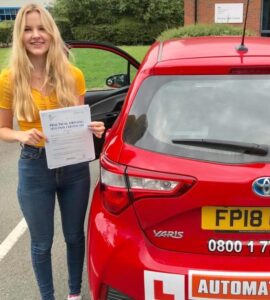 Driving Lessons Cosford
CALL OR TEXT 07791 152 046
Driver Training Driving School in Cosford are a DVSA registered family business, and are your number one choice for local Cosford driving lessons.
Automatic driving lessons Cosford £30 per hour
Male and Female driving instructors
Manual and automatic cars
Prepay 10 lessons for £280
Weekly driving lessons
Intensive driving courses
All of our cosford driving instructors are fully licensed by the DVSA, which means that you are assured that you are getting the very best lessons, whilst getting it at  exceptional value for money prices. Because less is more!
Cosford Driving Lessons Offers
*Online theory test help  *Fast pass courses  *Free test help
Driving Instructor Cosford

 If you are a new driver and live or work in and around the cosford area take advantage of our introductory offer of your first 4 driving lessons for just £70 in a manual car or the first 2 hours for £50 in an automatic. Our lessons are designed around you, less lessons equals more savings!
Apply for your driving licence here
Automatic driving lessons cosford
All of our driving instructors offer a fun and friendly service, so you can feel immediately relaxed and at ease. Our highly experienced driving instructors will also help you with your DSA theory test and explain the process to you as well as exactly what you can expect,or you can do this simply and easily online.
Cosford Driving School
Driver Training Ltd strive to get you to test standard as soon as possible; we understand that learning to drive can be a time consuming and costly affair.We make it less time consuming
With driving lessons cosford Our Cosford based driving instructors are well placed to get you test ready and out on the roads as quickly as possible so you can enjoy the freedom that comes with being a fully qualified and licensed driver.
Never compromising on lesson safety or quality, our Cosford driving school offers a range of lessons to suit every schedule and every budget. Each lesson will get you closer to passing your driving test.

Intensive Driving Courses Cosford

Sometimes it's not easy to fit in one or two hours of driving lessons per week. What with trying to find the right balance between work, education, family life and friends, finding the time to learn to drive can be difficult.
If you are wanting to learn to drive but don't know where you are going to fit your lessons into your schedule, then why not consider one of Intensive driving courses in Cosford?
These courses are between 8 and 40 hours and allow you to learn at a much quicker rate, so you can get to driving test standard as soon as you wish. In fact with our professional driving tuition this normally takes between 1 and 5 weeks!
Intensive Driving Course Cosford
are suitable for people who want to pass there driving test in ONE to THREE weeks and don't want to spend months and years learning.

You will need to have 2-4 hours a day to spend learning to drive. All courses can be altered to fit your circumstances and timetable.
| | | | |
| --- | --- | --- | --- |
| Hours | Theory test passed | Course lasts | Cost |
| 10 | YES | 1-2 days | £280 |
| 15 | YES | 2-3 days | £420 |
|  20 | YES | 1-2 weeks | £560 |
| 25 | YES | 1-2 weeks | £700 |
| 30 | YES | 1-3 weeks | £840 |
|  35 | x |  1-3 Weeks | £980 |
| 40 | x | 1-4 Weeks | £1120 |
NOT INCLUDING TEST. (To be booked separately)
**All fees need to be paid 1 week before of your driving course. 7 days cancellation is needed before for all course cancellations, without loss of course fee. or You will have the same driving instructor as far as is possible for the length of your course.
On a Semi-Intensive course you can pay in full or in stages. You will learn on a one to one basis with no other pupils in the car. call us Free on 0800 1 777 149 or text 07791 152 046